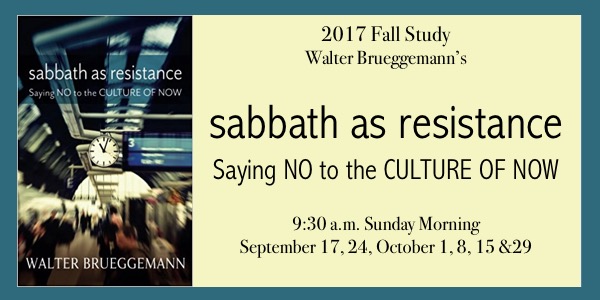 ROMANS STUDY SCHEDULE:


Sept. 17 ﹘ Sabbath and the First Commandment ﹘ Chapter 1
Sept. 24 ﹘ Resistance to Anxiety ﹘ Chapter 2
Oct. 1 ﹘ Resistance to Coercion ﹘ Chapter 3
Oct. 8 ﹘ Resistance to Exclusivism ﹘ Chapter 4
Oct. 15 ﹘ Resistance to Multitasking ﹘ Chapter 5
Oct. 29 ﹘ Sabbath and the Tenth Commandment﹘ Chapter 6



PARENTS & TOTS &nbsp&nbsp&nbsp The Parents & Tots playgroup is held every Thursday during the school year from 9:30-11 a.m.

LADIES' BIBLE STUDY &nbsp&nbsp&nbsp This group meets weekly on Monday evenings at 7 p.m., alternating locations in the homes of the participants. This winter they are studying the book of Revelation and using N.T. Wright's Revelation for everyone as a guide. New members are welcome! Contact Person: Linda Trentini.

A.M.S. &nbsp&nbsp&nbsp St. Andrew's has an active branch of the Atlantic Mission Society. "The purpose of the Society is to glorify God and to support with prayer, study and service mission endeavours through the Presbyterian Church in Canada, the Synod of the Atlantic Provinces and the Presbyteries within its bounds". The group meets on the second Saturday of the month on Saturday mornings at members' homes. For dates of meetings check under CALENDAR.