St. Andrew's is a congregation of The Presbyterian Church in Canada.
As Presbyterians we are part of the one, holy, catholic or universal church of Christ; we recognize the Scriptures of the Old and New Testaments as inspired and authoritative; and we accept the creeds of the universal church (such as the Apostles' Creed and the Nicene Creed). Our heritage also includes the "Reformed" branch of the Protestant Reformation led by John Calvin in Geneva and John Knox in Scotland, and we recognize the need for the church to be not only "reformed" but "reforming." Today Presbyterians are found throughout the world and come from all nationalities, races, languages and backgrounds. They are united in their desire to worship and serve God in accordance with the teaching of Scripture and with the guidance and help of the Holy Spirit.
"Presbyterian" comes from the New Testament Greek word presbyteros meaning "elder." "Ruling elders" are lay persons elected to serve and lead the local congregation. "Teaching elders" or "ministers" are ordained to the ministry of Word and Sacrament. Presbyterian churches are governed by a series of "church courts" in which ministers and lay elders are represented in equal numbers.
At St. Andrew's we have a Minister (Rev. Jeffrey Murray) and a Session consisting of eight elected elders.
Financial matters and property are the responsibility of a nine-person elected Board of Management.
Our Minister and one "representative elder" represent us at the Presbytery of New Brunswick and at the Synod of the Atlantic Provinces .
Once a year the General Assembly of the Presbyterian Church in Canada meets for a week; ministers and elders from each Presbytery attend in rotation.
We accept and follow the policy of the Presbyterian Church in Canada that all children, youth and vulnerable adults who participate in our programs/ministries and use our facilities will be cared for with Christian compassion and will be safe. For further details see Leading With Care.
Links:
The Presbyterian Church in Canada
Synod of the Atlantic Provinces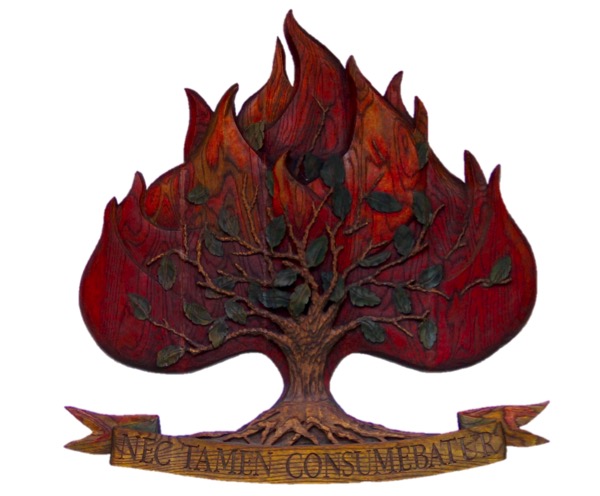 The Burning Bush has been a symbol used by Presbyterians for many years. At St. Andrew's we have our own version of the Burning Bush. Having our own Burning Bush above the main doors of the church was proposed by the late Ralph Dykeman. It was designed by Mary Scobie and Carved by Paul Bogaard in 1992 (the colours were added in 2015). The image below was painted by Peter Manchester, which is found on our church sign.